WHAT'S UP ?
Today, the 27th of December, is my birthday!
Following suit, the 25th was the first anniversary of the creation of this account.
SAPPY STUFF BELOW
Throughout the history of my time online, I've made plenty of accounts on plenty of social sites. I never really stayed very long, though. My interest would often fade once I began to feel like nobody really cared. Posts wouldn't get much traction at all, and it left me putting my hard work into a silent and unresponsive void that reeked of minimalist web design.
When I was much younger, I would come here to play games and watch movies through the unmonitored internet connection my parents had allowed me to use. I had always observed the community from a distance, though it was around early 2019 when I decided to attempt to join it myself. This was a time before I consistently drew cartoons or made music, so things were often very quiet- and little-to-no interaction and a lack of confidence led me to delete that account.
Things went on, home life was as rocky as ever, and I was struggling to create anything of substance. October of 2020 brought about the popularity boom of a game or two you might have heard about, and this peculiar lil game jam project reignited what was then a fading interest in art, music, and Newgrounds for me and many others. Through a friend, I managed to meet some kickass individuals. A whole new door of opportunity opened for me in a time when the entire world felt boring and really, REALLY shitty.
After a year of being here, I regret ever leaving in the first place. Newgrounds has become a bigger part of my life than it ever was before, and I'm thankful for the creators who continue to dazzle and inspire through art, animation, games, and audio. seeing a community as creative, supportive, and stylish as this one gives me the motivation and hope to strive to create in my own life, and I hope it inspires you too.
As for projects and upcoming releases, I've got a lot cookin' up right now! I've nearly completed a majority of my audio contributions for the Shoot Trip Die demo, which will be released to the public sometime around pixel day in January. Regarding personal projects, I've been posting a few tracks to the audio portal every now and again, but expect more original concept art and music in the near future!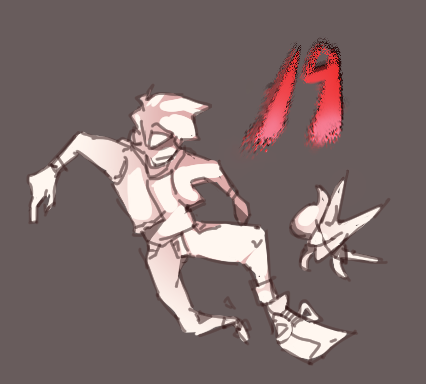 THANKS !
Thank you more than ever for supporting my work, and have a damn good one.
SUPPORT THESE GUYS
wishlist SHOOT TRIP DIE on steam!
follow @LeviRamirez for updates on the game!
buy Dead Estate on steam! (It's on sale until January 5th!)
lastly, follow @meulinex! I wouldn't be here without them!